Injectors that have too large a flow rating will make it difficult to tune the engine at idle and cruise. Injectors that have too small a flow rating can starve the engine of fuel at full power, and seriously damage your engine. To determine how big your injector's flow rating should be, you can enter your engine's estimated brake horsepower (at the flywheel) and the total number of injectors in the form below and press the "Compute Flowrate" button.
Or you can use the following chart to select injectors based on the total horsepower of your engine and the total number of injectors:
Another way to select injectors is to take them from an engine that makes nearly the same power as your engine will [assuming the same number of injectors].
If your regulator is adjustable (many aftermarket ones are), you can also adjust the fuel pressure to achieve different flow rates. Changing the fuel pressure doesn't affect the flow rate as much as you might assume, since it is based on the square root of the pressure ratio. The formula is:
new flow rate = old flow rate × √(new pressure ÷ old pressure)
So for example, if you had 30 lb/hr injectors rated at 43.5 psi, and you went to 50 psi, you would get:
flow rate = 30 * √(50/43.5) = 32 lb/hr
You can use this calculator:
Do not run more than 70 psi fuel pressure, or the injectors may not open/close properly.
However, do not install injectors with a much larger flow capacity than you need.
Injectors frequently have identifying numbers stamped on them. You may be able to identify your injectors by Googling those numbers.
Injectors should not be used at more than 80-85% duty cycle. However, injector rates are always specified at 100% duty cycle and some nominal pressure (usually 43.5 psi = 3 atmospheres). The manufacturer leaves it up to you to determine a system pressure and maximum duty cycle in order to compute the resulting flow.
Injectors are driven by an electrical signal from MegaSquirt® that grounds the +12 volt supply through the injectors to open them. Once they are open, they flow at a constant rate until closing. The amount of time required to open and close the injectors is specified in MegaSquirt® as the 'Injector Opening Time' (usually about 1.0 msec for high-impedance injectors and 0.7 for low-impedance injectors). Here is an example of a low impedance injector's pulse voltage, current, and fuel flow:
Your MicroSquirt® EFI controller will limit the injector current to ~5 Amps per driver. This may be too much for the injectors, especially if you only have one or two low-impedance injectors per driver. High-impedance injectors (i.e. injectors that have a DC resistance of more than 10 Ohms) will not flow more than ~1 Amp at any time, so they do not need any additional current limiting. Low-impedance injectors (< 3 Ohms) can flow up to 15 Amps if not limited, and this will burn them up. To do this, use a 5 to 8 ohm resistor (with a 20 to 25 watt rating) in series with each injector.
You connect the ballast resistors in series with the injectors. You should use one resistor (20-25 Watts) in series with each injector, otherwise the injectors may not all draw the same current, and the failure modes become complicated and difficult to diagnose.
To determine the resistor to use to limit the current to under 2 amps, you can also use the calculator below. Enter your injector resistance in ohms, your hold current in amps, as well as your injector impedance in ohms, in the form below and press the "Compute resistor" button.
The 25-watt resistors aluminum case Ohmite resistors (with 1% tolerance) from www.digi-key work well. Below is a picture of a 7.5 ohm resistor, Digi-Key part number 825F7R5-ND.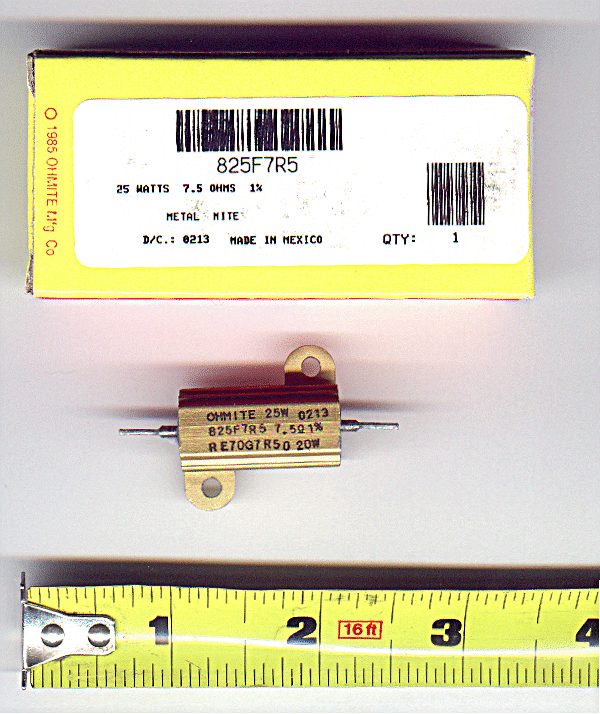 Ohmite has several suitable resistors, with part numbers that start 825F (25 Watt, aluminum case with mounting ears) and end in XRY, where X and Y indicate X.Y ohms. Depending on injector, pick 2-8 ohms or so.
You may prefer to use an OEM injector resistor box instead of making you own set-up. To find out more, see the article "Fuel Injector and Resistor Box Basics - Wrenchin" from Honda Tuning Magazine.
You may be able to use less resistance to protect the flyback components - just a few ohms combined with PWM may do the trick. Be sure to use one resistor in series with each injector, and then you can parallel these into the two banks. Do not share two or more injectors per resistor, use a resistor per injector.
---
If you have any questions or problems that can't be answered from the links above, or a search the MicroSquirt® manual:

you can ask questions at the MicroSquirt® support forum which is at: